Clever Locks ! Burglars be warned? 
---
There is genuine buzz about locks nowadays as they have truly evolved.
The one question we are dying to figure out — Are Smart Locks really clever or they are no more than just security house tricks ? Being a keen locksmith for years, the development of locks has always been a key interest close to my heart and I have come to discover some interesting concepts, the occasional design fault and user-friendly creation.
"A smart lock is an electromechanical lock which is designed to perform locking and unlocking operations on a door when it receives such instructions from an authorized device using a wireless protocol and a cryptographic key to execute the authorization process."
– Smart Lock – Wikipedia
The path towards smart locks is a relatively new one, and has only recently begun to gather steam.
The likes of August, Samsung, Okidokey, Goji, Kevolocks, Lockitron and Haven are all competing for foothold in the digital marketplace. Then there are traditional brands like Yale and Schlage also eager to showcase their latest technology.
This guide serves as a preview into the future of home security and a tip-off for all house burglars to quit while they still can or should they ? And of course, the lock systems in this guide would most certainly serve as the quintessential solutions to common household problems like losing the only set of house keys or having the no-free-hands moment when trying to unlock the front door.
What we really want to know are the potential problems we might face with these products and the bloopers where burglars can take advantage of.
---
Do they really work ? Let's Discus concepts.
---
Connecting locks to Smart Phone via Bluetooth. The common problems faced.
Is Security Through Bluetooth really safe ?
Each of the Smart Lock companies claims to use the same security protocols as those used in online banking. Is the system still vulnerable ? Yes. But to ask a burglar to hack the app system (128-bit AES encryption baked into Bluetooth SMART), my guess is as good as anyone's, he would rather break-entry through the glass window. Well, to get into the technical details of the Bluetooth authentication process for each digital key would be a bore so lets talk about some common problems and frequently asked questions instead.
What if my phone's at home and I only realised it after work when I'm about to open the door ?
This problem can be dealt with by not allowing the user to lock the door in the first place when leaving the house. That will alert the user that he/she's phone is not with him.
One Brand, The Kevo determines whether you're inside or outside your home thanks to a clever calibration process that teaches the lock how to make the distinction. It's perhaps the Kevo's most crucial feature – without it, leaving your phone sitting on a table near the front door where you left it before leaving work would mean that anybody with skin could waltz up to your home and unlock your deadbolt.
Most brands never mentioned much about such scenarios so alternative unlocking methods for contingencies are extremely important as mentioned below.
What if my phone battery is flat or blue tooth's not working ?
All Bluetooth locks should have alternative ways to unlock. Some alternative ways are smarter than others, most just uses the good old house key, but how smart is that ? Other unlocking methods include keypad pin entry, thumbprint detection, card access or for one particular brand – wrist bands !
Powering the Smart Lock.
Smart Locks are powered by batteries which in my opinion have pros and cons.
The pros  1) you can find batteries easily replaceable. 2) Hassle free and wireless installation because there is no need for power supply wires.
The cons 1) You may need to replace the batteries more often than you would like. 2) Cover plates for the battery compartment are sometimes too easily removable, and may result in lost/loose covers or susceptible to external tampering.
Are there back-up supplies available to power the lock ? Do I need to be worried when power is out !
Schlage claims that their product has a 2-year battery life with 9v battery back-up.  Yale has a similar back-up supply plan.
In a power or network failure, Goji claims that they will continue to lock and unlock the door as normal, but it will not send any updates until the system comes back online. This means your home could potentially be at risk during this time.If the Goji is offline for two hours,  a text message will alert that the network is down.  However, this may sound like a dream compared to Lockitron's functionality when the internet goes down. Without power or internet, only iPhone 4S and iPhone 5 users will be able to gain wireless entry to the door, thanks to Bluetooth 4.0. All other users must use the original key to unlock the door.
Other Smart Locks like the Lockitron simply relies on the use of mechanical keys when all else fails.
Are Smart Locks Tamper proof ? What are the anti-Thief features?
This is critical because we all know how well these smart locks work in pristine conditions, but what about burglar break-ins.
In reality, any lock system regardless of how smart, are vulnerable to tampering as demonstrated by the video done by Cnet to investigate the Kwikset Kevo lock. Based on the video, physical deformation by force will not easily compromise the locking mechanism (though some brands are more robust than others). However, expert lock pickers are able to undo any locks easily through picking.
In Conclusion, we can identify some features that are keepers.
1) Smart alternative unlocking options like card, smart key or pin code is a useful start. Using mechanical keys as an easy alternative unlocking option will mean exposing your lock to picking but it will still save you from being locked out of your house when all else fails ! A keyhole-less Smart Lock with smart unlocking options and a proven credible back-up power supply plan may be the potential winner here.
2) Sturdy, robust casing with minimal physical groove or edges to pivot or pry on.
3) Competent back-up power supply plan.
4) Motion sensor to detect activity and take snapshots of visitors or intruders. I think this is a smart feature that we can all appreciate even if its just a cute cuddly cat at the front porch !
5) Competitive pricing is an imperative.
In my opinion, smart locks offer convenience above everything else. They do not offer any more security than the regular deadbolt. Should you want to invest in one, do try the ones equipped with the recommended features as mentioned above or wait for further developments to existing models after sufficient rounds of trials and debugging.
For curiosity sake, Let's explore some Smart Locks for the  5 mentioned Features !
---
8 Brands
---
The top 8 smart locks that cropped up on the first page of Google search Keyword – Smart Locks 1) August, 2) Goji, 3) Kevo Lock, 4) OkiDokey, 5) Samsung Digital, 6) Lockitron,  7) Yale and 8) Schlage .
---
The August Smart Lock
---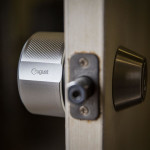 1) The August Lock is a Smart lock that slips over the existing deadbolt. The plus is that its easy to install and keeps things simple and flexible – compatible with over 100 or so existing deadbolt designs. However, this does exposes the August Lock to the potential lock picker.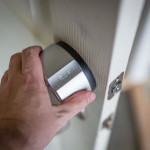 2) The Lock is attractive in appearance on the inside and it does not give away any of its cover from the outside as it still has the look of your old deadbolt fixture. It certainly boost a sturdy case with minimal grooves and edges to prevent prying.
3) Unfortunately, the August Lock does not mention much about its back up power source other than the use of 4 AA batteries for its main operations.
4) Its key feature of auto-unlocking when you are in the vicinity of the lock can be its best but it can also be its undoing.  If you unintentionally leave your phone at home near the door while rushing to work one day, it might potentially mean that anyone who comes close would be able to unlock the door.
The ease of installation can be considered a plus and so is its free, unlimited e-key distribution policy. Other smart-lock makers charge you per key once you go past a certain allotment.
5) Coming in at around $230, it maintains a competitive pricing almost similar to its rivals.
Get the August Smart Lock here  – August Smart Lock – Keyless Home Entry with Your Smartphone, Silver
 .
---
The Goji Smart Lock
---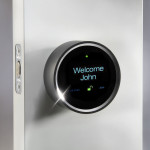 1) The Goji lock replaces the existing deadbolt completely. Slick on the outside, the Goji lock has an option for contingencies where the mechanical key comes to the rescue. This feature although does save you form the occasional lock-out, you are still vulnerable to break-ins via picking.
2) The Goji, like August Locks have that minimal, nest thermostat-like polished look. They are similarly in terms of design appearance and does not fashion any potential loopholes for physical tampering.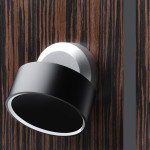 3) The Goji Lock is powered by 4 AA batteries but does not mention any back-up power supply options. The Goji lock has an option for contingencies where the mechanical key comes to the rescue.
4) Pehaps the best feature about the Goji lock is that it boasts a camera feature that claims to send an image of individuals who approach or access the residence. As mentioned above, this feature is a keeper and it really sets it apart from the rest of its competitors. Among other features, it also has a scheduling function which allows you to approve specified times for certain individuals to enter your home.
5) The MSRP for Goji is $278, it can be purchased at a discounted price of about $245.
You can get your hands on a Goji Smart Lock Set here.
---
The Kevo Kwikset Lock
---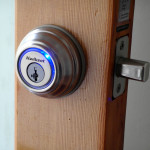 1) The Kevo Lock replaces the existing deadbolt completely. It claims to have passed the most stringent lock-pick standard, UL 437, par. 11.6.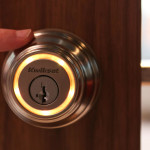 2) Its plain exterior appearance does not give anything away except for than rimmed LED glow when touched.  The SmartKey deadbolt at the heart of the Kevo is too easy to break for a lock that costs $219.
3) It is powered by 4 AA batteries. There is no mention of back-up power supply.
4) Tapping your way into your home has some clear appeal, especially if you're carrying an handful of groceries. The Kevo's best features is perhaps its inconspicuous look. Unlike those kinds of sleek, modern, space-aged smart locks, the Kevo looks like any other boring deadbolt. By not advertising itself as a premier piece of hardware, it isn't likely to draw unwanted attention to your front door.
5) It is the cheapest so far at $219.
Get Kwikset Kevo Locks here.
Kwikset 925 Kevo Single Cylinder Bluetooth Enabled Deadbolt in Satin Nickel
---
Okidokey
---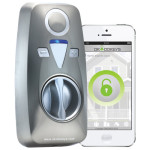 1) The Okidokey slips into your existing bolt like the August lock. It boosts a variety of alternative unlocking options like the smart key, tap card and wrist band. The Okidokey is one of those rare Smart Locks that don't use mechanical keys for extreme contingencies. This may be a plus provided it has a good power supply support.
2) The Okidokey is a spin-off project from Openways, a Smart Lock project for Hotels. Unlike its competitors, Okidokey emphasize on providing more smart hardware components than satisfying that slick décor-friendly designer look. Its bulky elements makes it more vulnerable to tampering.
3) It is powered by 7 AAA batteries with no mention of any back-up supply plans.
4) Like many other smart locks, this one works with existing ANSI Grade 1 and Grade 2 deadbolt, and is designed to be user-installable.
The strength of the Okidokey lies in its many unlocking options, one can unlock with a traditional key, or, with the optional Smart-Reader, via wristband, a wallet card, and key fob accessories, all equipped with RFID chips.
5) A full set retails at $249 on Amazon. A standalone base kit costs a competitive $179.
OKIDOKEYS Classic SMART-LOCK Bluetooth 4.0 Enabled Smart Lock for Smartphone, Compatible with iOS and Android 4.3
---
Samsung Digital Smart Lock SHS-P718
---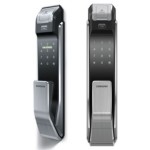 1) The Samsung Digital Smart Lock is different from the rest of the feature locks as it is not opened primarily by smart phones but by other types of unlocking options like pin code, smart keys and thumbprint. An advantage of this lock is that it does not have any key-hole which makes it impossible to pick.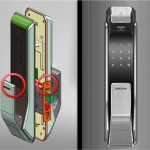 2) The Samsung SHS-P718 replaces existing bolts with new ones. The new doorlock has dual protection in the form of its robust structure and its claimed anti-hacking solution. The robust structure is formed by consolidating both handle and main body together to produce a more rigid assembly, the anti-hacking solution is enhanced by a password and encryption setting to act as additional precaution against any forced external intrusion. With its thin profile, it will give burglars a hard time trying to pry it open.
3) Its drawback maybe its use of 8 AA batteries, double the amount used when compared to the other smart locks.. It also does not have any back up power supply options.
4) The Samsung SHS-P718 is very similar to your standard hotel grade smart locks and has added new functions like thumbprint identification and smart phone tab unlock features. Although not being able to control remotely with your smart phone, it gives a more familiar and trusted feel of security to your home, free from the no-signal, no-batteries worry bundled with your standard Bluetooth devices.
5) Another of its drawback is its cost which comes in at $475.
If you are still convinced the Samsung SHS-P718 is the one, get it here.
Samsung Digital Door Lock SHS-P718 Fingerprint Push Pull Two Way Latch Mortise
---
Lockitron
---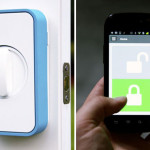 1) The Lockitron Slips over the existing deadbolt for easy installation. Electronic access keys are available and it is compatible with most smart phones. In the event that you own an older cell phone, text message back-up can be utilized for an additional $5 a month. These notifications will be sent each and every time your door is unlocked. Using existing bolts makes it vulnerable to picking.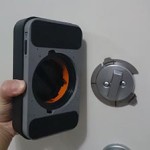 2) The Lockitron uses existing bolts like the August Lock and Okidokey. Its insubstantial appearance and colour unfortunately portrays a very flimsy look.
3) The Lockitron is powered by 4 AA batteries and has no mention of any back-up power supply.
4) A common issue is that the lock may be installed poorly and the bolt winds up misaligned. A human can easily overcome a small misalignment. The bolt will just feel "sticky" and more force will be required. However, this presents a more serious problem for the Lockitron. In the worst case, the force required to throw or pull the bolt will be too great, and the door won't fully lock, or even worse, won't fully unlock. Even if the Lockitron is able to overcome the force required, it's battery will be drained faster as a result.
5) The Lockitron can be found here.
---
Yale Real Living NFC Deadbolt
---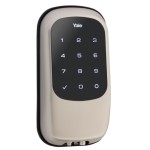 1) The Yale NFC Deadbolt is a new market competitor which launches in 2015. It replaces the existing deadbolt completely. It spots a slick exterior with no keyhole which does help avoid any dangers of being picked.
" The Yale touchscreen, the same capacitive touchscreen in use for years on millions of Yale digital locks, wakes with a touch and is weather-tight and virtually indestructible. And as a true key-free lock, there's no cylinder to pick or bump. Should the lock batteries drain, the lock can be powered by simply touching a nine-volt battery to the terminals at the bottom of the lock."
Rain Boden, NFC World
3) The Yale NFC Deadbolt is powered by 4 AA batteries and has an added back-up feature using  9V battery. It is the only smart lock so far with a back-up power supply plan. Having the luxury of studying other locks already out in the market, the Yale NFC deadbolt comes in with added security features and all the necessary options that others must catch up in order to remain competitive.
4) The lock and app are powered by Seos Technology, a platform for issuing, delivering and revoking digital keys across a range of smart devices. Seos was developed by Assa Abloy, Yale's parent company, and is used in hotels, universities, hospitals, offices and commercial buildings. Yale claims that this technology is a robust proven technology that gives homeowners peace of mind.
5) The Yale NFC Deadbolt retails at $205. So far the Yale NFC tick all the boxes for Smart features and reliability. Get Yale NFC Deadbolt here.
Yale Security YRD240-ZW-619 Real Living Electronic Keyless Touch Screen Deadbolt, Fully Motorized with Z-Wave Technology, Satin Nickel
---
Schlage Sense
---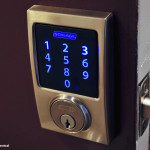 1) The Schlage Sense is also a new Lock to be launched in 2015. It replaces the existing deadbolt completely. It has the option of touch screen pin code access as well as using the mechanical key when all else fails. This subjects itself to picking and other forms of tampering.
2) It does have a slim exterior shell which helps prevent prying or bumping.
3) It has a similar power and back-up power supply plan with the Yale NFC Deadbolt.
4)   The Schlage Sense is yet to hit the market, hence still early days to comment on its pros and cons. It packs a lot of great features similar to the Yale NFC Deadbolt so it won't go too wrong. The only aspect which I feel that needs improving would be its key hole feature which I think Schlage should leave out if they are confident enough of their power supply features.
5) Preview the Schlage Sense here.
---
A comprehensive comparison chart for Smart Locks
---