We all love the smell of coffee in the morning, but how do we get a nice brew every time and with the best results ?
Coffee machines are designed for this one purpose and it has become very useful indeed, especially for that busy household to get that good cup of coffee every time and for a fraction of the hassle. Well,  these coffee machines have just gotten smarter,  they can now be programmed to brew according to your daily schedule and can even be controlled remotely while you are away from home.  Just imagine, with the click of a button on your smartphone, your coffee can be brewed concurrently and hassle-free, while you're on your way home from a tiring day of work!  A nice brew of coffee awaits you when you open that front door. This novel idea is just perfect for coffee lovers who can never find the time to brew up that pot of coffee anymore.
Being a coffee fanatic and just about to buy one for myself, I thought I might as well do some research and get a cool understanding of what we are getting.
---
The Features
---
First and foremost, what we are dying to know is whether these machines are in fact really that great ?
1) The feature where you can remotely control the coffee brewing through your smartphone, complementing your schedules along the way.
This feature sounds extremely helpful and innovative, but when you come to realise that making that cup of coffee without you actually being there can be very nerve wrecking indeed. A simple problem from this may just come from getting home later or earlier than scheduled making the cuppa completely cold or not brewed at all. Then there are far worst scenarios where there can be a power outage or a damaged hot water pipe that flows out to your kitchen cabinets ! Well, lets' give these hi-tech machines a break for now and give it the benefit of doubt. Being able to use your phone to order you cuppa at home is awesome, and at least it saves you loads of time when you are traveling home or when you have unexpected guests.
2) Does these machines give the competency to brew that perfect coffee by heating up water to that ideal, consistent brewing temperature, thus optimizing flavour from the coffee grounds.
This feature is a must for all good coffee machines and must be able to extract ground flavours effortlessly. Temperature control is such an imperative that nobody would even care if a poor cup of coffee is made conveniently with remote sensors !
3) Waking you up when the coffee is ready.
I, for one, feels great when waking up to the smell of coffee every morning, so for that I am truly grateful that someone has come up with the idea of a coffee machine alarm. This feature sounds simple but it does help boost that bit of moral on that dreadful Monday morning.  This feature to me is good to have.
4) Integration to your existing Smart Home system
For some who already have a smart home automation system at home, the smart coffee machine which can integrate well with it would definitely be a plus. You can have your heater warm up on a cold winters day as well as your coffee ! Awesome, I know.
5) A thermal pot that helps keep the brew hot and tasting fresh for at least 30 minutes.
This feature is the solution to the problem I posed back in feature 1 where you can get home later then schedule, at least your cuppa is still hot and fresh.
6) Any additional innovative feature that the machine might have is a bonus.
7)  The price for these machines should be competitive.
---
3 Smart Coffee Machines
---
The top 3 Brands of smart coffee machine that came up on the first page of Google when Typing "Smart Coffee Machine" are :
1) Smarter Wifi Coffee Machine
2) Mr. Coffee's Smart Optimal Brew, 10-Cup Programmable Coffee Maker with Wemo (Model: BVMC-PSTX91WE)
3) Poppy Pour – Over
Let's run through these machines over my 7 item checklist.
---
The Smarter Wifi Coffee Machine
---

Smarter's coffee machine has been hyped as "the world's first bean to cup, Wi-Fi-enabled coffee machine." It controls the grinding of beans, coffee strength and how many cups to make, and wakes you when your coffee is ready. It can also keep the coffee warm for 20 minutes. All this is done using the free IOS or Android.
1) This coffee machine satisfies the remote features well and completes the automated brewing process with my personal favourite feature – the coffee cuppa alarm. It also have a double-walled carafe which help keep your coffee fresh and warm for 20 minutes.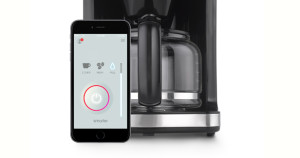 2) However,  the machine does have its drawback of not having a feature to effectively monitor or control the brewing temperature which is vital in keeping the coffee top notch and fresh.
3) Integrating into your existing home automation system is a tall order which may not feature for most smart coffee machines as yet. Lets' wait to see if the Smarter coffee machine can come up with this feature first.
4) The Smarter Coffee Machine does boast a host of fine innovative features, including notifications when the machine needs more water or when it's running low on coffee beans.
The Smarter Coffee Machine can also learn your routines and suggest times you might want a cup of coffee. You can have a meaningful conversation with it too, a Welcome Home note is a good start so that you can have a cup of fresh, hot coffee waiting when you walk through that front door after work.
Another interesting feature the 802.11b/g Wi-Fi Smarter Coffee machine boasts is its compatibility with IFTTT, Apple HomeKit and all major connected devices. This allows your wearable tracker to notice your sleeping patterns and recommends a stronger brew should you have a bad nights' sleep. Cool !
5) Coming in at US$199.95,  the price is a tad too high, but all in all, a competent coffee machine with fabulous features.
---
 Mr. Coffee's Smart Optimal Brew, 10-Cup Programmable Coffee Maker with Wemo (Model: BVMC-PSTX91WE)
---
1) Just like the Smarter Coffee Machine, Mr. Coffee's Smart Optimal Brew, 10-Cup Programmable Coffee Maker with Wemo (Model: BVMC-PSTX91WE) boasts a host of innovative designs , not forgetting the programmable function to complement your daily schedule via a smart phone App.
It is designed to provide remote access for setting up a weekly schedule and adjusting brew time if needed, hence fulfilling the remote function effortlessly.
However, its App needs some fine-tuning to cure its buggy, flaky interface.  At times, perhaps common in all Wifi devices,  it fails to detect the device.
2) When it comes to brewing technology and temperature consistency, this coffee maker raises the bar a notch higher than its competitors. Along with its remote access convenience, it is engineered to extract the fullest coffee flavour possible with its high consistent brew temperature of up to 205° and a faster brew speed, resulting in great tasting coffee every time.
3) The smart phone App can be programmed to alert when required and the Delay Brew program allows the aromatic, freshly stir brewed coffee to stir your senses when you wake up.
4) To have a function integrating the device to your home automation system may be the one thing it needs to  set itself above its competitors. Unfortunately, it has yet to boast this feature.
5) Double-walled, stainless steel thermal carafe holds that fresh flavour and temperature, without a warming plate, to maintain the coffee's true character and taste. The carafe offers to keep the coffee warm for a long time without burning it.
6) Mr Coffee's Optimal Brew Coffee machine is built for true coffee connoisseurs where you can include a Water Filtration disk to filter out chlorine and impurities from water during brewing so you can enjoy better taste. It also has several unique programmable conveniences, notably the Delay Brew program as mentioned above and Grab-A-Cup Auto Pause, for that rich-tasting cup you may need before the brew cycle finishes.
7) Coming in at$149.99, it is definitely a good price to ponder over for that nice cup of coffee. A truly professional grade coffee machine. You can get the Mr. Coffee Smart Wifi-Enabled WeMo 10-Cup Optimal Brew Coffeemaker, BVMC-PSTX91WE
here.
---
Poppy Pour – Over
---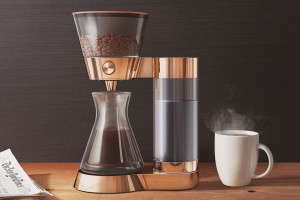 1) The Poppy Pour-Over is an appealing new gadget produced by New York Based Start-up Quirky. With its nice bronze accent design, The Poppy Pour-over is a sexy smart coffee machine that has a built-in burr grinder so your coffee is always brewed from fresh beans. As with other smart coffee machines, it can brew from anywhere with an Internet connection using the Wink app and the accompanying Wink Hub at home.
2) You can fine-tune and save pre-sets for ideal water temperature, grind size and brew times, then share your favourite brewing recipes using the app for iOS and Android. However, being new in the market, it needs to prove itself on temperature consistency for that prefect brew.
5) A double-walled glass carafe keeps the coffee hot and the hopper can store 1.25 pounds of coffee beans at a time with 10- or 20-ounce serving sizes available.
6) An interesting feature that it boasts is when you brew away, a sensor inside the Pour-Over maintains inventory of your remaining coffee beans and filters. When you're running low on either, the smart sensors automatically engage and place an order for you using the Amazon Dash Replenishment Service that you set up beforehand.
If this inventive feature works, the Pour-Over will finally relieve you of the responsibility of refilling your coffee-making supplies.
7)  At the time of this article, Quirky hasn't announced pricing or availability for this Poppy product yet, lets' keep our fingers crossed for this one.
---
In Conclusion
---
All the machines that have been mentioned in this article have genuinely innovative features that will surely catch your attention. But in my opinion, Mr. Coffee Smart Wifi-Enabled WeMo 10-Cup Optimal Brew Coffeemaker, BVMC-PSTX91WE
, sits on top for now purely on the grounds that it boasts many professional grade coffee making features for that perfect coffee brew. If you already have our recommended machine in mind, do buy from the above link to show support for our work (we get a little commission from Amazon).  Thanks.
To be honest, there is no point in making a poor cup of coffee conveniently.