Some of the more interesting hi-tech beds that I have come across on the internet.
I arranged them according to price for easy comparison.
Balluga Hi-Tech Bed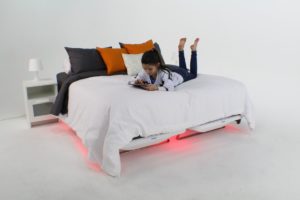 The latest bed technology to hit the market is the Balluga Hi-tech Bed. Well, not just yet, Bullaga is currently featured on Kickstarter and it boosts a host of fantastic designs that will leave you inspired to get one for yourself.
The bed is designed with cool layers of air-filled cells that support your body while you're sleeping.
These air cells are replaced constantly so they maintain their firmness and comfort. In addition, the non-absorbent, anti-allergen components can also be steam cleaned.
One of the more interesting feature I have come across would definitely be its claim to stop snorers from their tracks.
A Bullaga team designer explained enthusiastically : "Balluga has an anti-snoring technology, which detects a snoring sleeper using the built-in microphone. The Balluga bed then reacts by raising the snorer's head or adjusting their upper body to stop the snoring,"
The bed works with a remote app available on iOS, Android or Windows that gives you feedback on how you slept.
Prices for the bed are quoted as starting at $1,095. I guess this would be a small price to pay for that comfortable beauty sleep that you have always wanted.
Sleep Number X12 Bed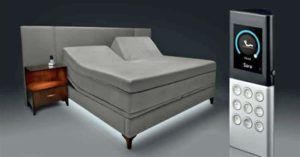 The Sleep number X12 Bed has great features that include, a voice control device that allows you to make adjustments with a few simple commands.
Its comfort stems from its 14-inch profile mattress designed with advanced pressure-relieving memory foam.
It also features some of the more advanced technology like the FlexFit 3 adjustable base, allowing you to elevate your head and foot from your bed. It  has remained on the fore-front of technology by including the Partner Snore technology which helps curb snoring partners in bed. The bed through its cool technology can also remember you and your ideal support, and will guide you to your best Sleep settings.
Did I mention that it also has under-bed lighting and a massage system as well. The Sleep Number X12 bed comes in at a cool $7,399 (as listed on its site). With features like message, smart phone and voice control devices, it is definitely money well spent if you want that perfect comfort when you sleep.
Hollandia TV Bed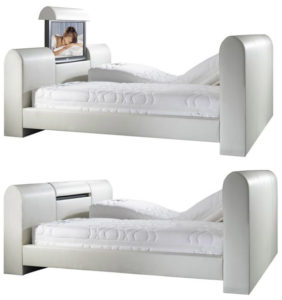 A luxurious alternative comes from the well-known brand – Hollandia,  known for the world's most lavish, comfortable, and expensive advanced sleep systems. The company's latest Hollandia Platinum-luxe Elite sleep system boasts a myriad of luxury options besides a retractable 32-inch HDTV integrated into the bed's frame.
The TV sits perfectly at the end of the bed frame, slightly exceeding the normal 1:3 ratio of screen size to viewer distance. Its brightness can be dynamically adjusted to the ambient lighting, to reduce eye strain.
Hollandia's Elite is also equipped with theater system that includes a five DVD/CD changer, a five speaker surround sound system, a subwoofer beneath the bed for a complete entertainment experience, and of course, who can forget that iPod docking station.
Perhaps the feature that most impresses me about this bed is its gently adjustable reclining positions coupled with an integrated massage system that features four powerful motors with a micro-computer that provides 12 individual massage programs, and a 30-minute automatic shutdown.
Additional features include its 13-inch retractable back-sliding system and Hollandia's telescopic head support. All the features are beautifully engineered into the bed.
The base is covered in beautiful Italian-designed fabric with a new 100 percent synthetic fiber that protects the frame from pets that scratch at it.  The Hollandia Elite combines entertainment and comfort for your sleeping pleasures. Its priced at $35,000, talk about the ultimate luxury and entertainment.
Starry night Sleeping technology bed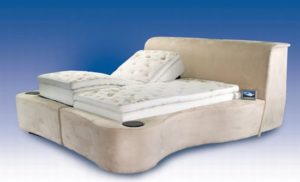 The Starry Night Sleep Technology Bed is another luxurious bed that boosts a multitude of entertainment features including Internet connectivity, an iPod docking station, a 1080p projector and a surround sound system with four eight-inch subwoofers.
A few of its stand out technological features is its dual programmable temperature control and its diagnostic system that monitors body movement and breathing pattern. 
The mattress can be set to "pre-heat" or "pre-cool" on both sides of the bed (ranging from 20 degrees to 47 degrees Celsius).
The body monitoring system aims to improve sleep over longer periods by monitoring your sleep patterns during the night and comparing them over a 30-day period. This information in turn will reveal your breathing and sleeping habits,  from which it will provide hints on how to improve your sleep quality through relaxation.
Just like most other luxury beds, the anti-snore technology is a definite must and can detects vibration caused by snoring and tilts the bed to encourage you to stop.
With its price coming in at a cool range of $20,00 to $50,000 (depending on customization).

Tranquility Pod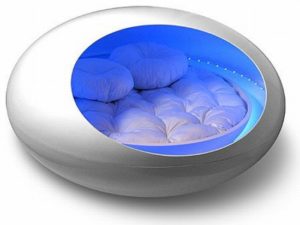 The Tranquility pod boosts a fiberglass exterior that blocks out 90 percent of outside noise, while its interior four-speaker surround sound (which is smartphone compatible) works to create a relaxing environment through a state-of-the-art audio system. Once you enter, you may never want to leave as the sub woofer embedded at the bottom vibrates the water bed in a way that sound waves resonate through your body like a musical massage.
Retailed by Hammacher Schlemmer, the pod also uses a pulse sensor that synchronizes your heart rate with 50 LEDs that can be controlled wirelessly from an app. The Tranquility pod will set you back by a cool $30,000.
Somnus-Neu Bed

Somnus-Neu Bed is an ambitious bed project created by Yoo-Pod Ltd. it is named after the ancient Roman god of sleep and with all the high tech features it boost, its not difficult to see why.
Somnus-Neu Bed is a combination of design and technology at its best allowing you to relax, be entertained and have a good nights rest. See the video of Somnus-Neu here.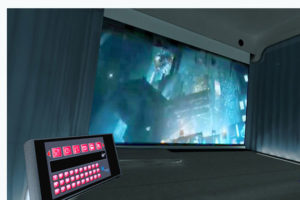 Some of the bed's features include an internet connection, either through wifi or ethernet, an entire audio-visual system with a HD video projector and 5-point audio system that includes drivers mounted beneath the mattress. The audio system can easily hook up an iPod, watch cable TV, DVDs or stream media online.
Somnus-Neu also has mechanized curtains and features a drop-down screen that can be used to screen information completely enclosed while you lay comfortably in your bed.
The LED lighting under, above and around the bed can create your own light show or set a sensual mood. All this being controlled by two retractable 17-inch touch screen monitors (check out the video from the link above).
Perhaps the most impressive feature of the Somnus-Neu bed is that RFID (radio-frequency identification) cards is assigned to you that allows you to input your appointments, travel schedule, contact numbers, meeting notes and media preferences. So when you enter the bed after a busy work day, it will automatically play your favorite music and display all your important information and schedules. Priced at $62,349, it is a truly luxurious bed for the rich and famous.
Ohea Smart Bed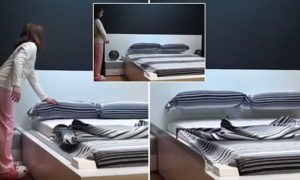 A smart bed that makes itself in under a minute. How cool is that! Watch the video here.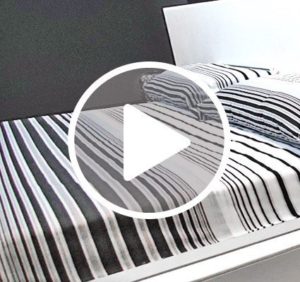 In 50 seconds, the bed's mechanical arms on both sides guide the blanket up to the head of the bed to be fully smoothed and stretched. At the same time, the pillows are lifted by cords so that the blanket can be fully placed across the bed. Once the blanket is fully stretched, the pillows will drop back down, leaving your bed nice and made up.
To ensure that its make up feature can't be activated while a person is in the bed, a safety mechanism is well in place. A switch on the bed frame also offers manual and automatic settings, the latter understands when the bed is empty, signalling the bed making process to commence only after three seconds.
OHEA's smart make up bed is still a prototype and will only be on sale in the near future. We will definitely on the look out for this one.
Cosmos Bed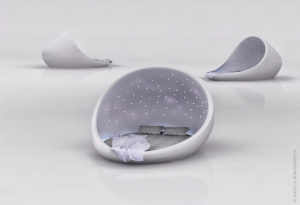 The Cosmos bed is a futuristic bed design that will definitely impress with its extraordinary shape and special features.
Have you ever dreamed about sleeping under the star? Well, the cosmos bed is designed to mimic just that, everything while still being indoors!
Although still in its prototype stage, its slick design and hi-tech features will definitely impress you and help you achieve that good nights rest.
Some of its features include LED lights speckled on its curved roof over a mattress with an adjustable slope (this is to make you feel like sleeping under a starry night sky), a built-in audio system that plays either music or white noise, and it can also be programmed to work as an alarm clock.
In addition,the unique feature that had me impressed is the "aroma dispenser," as mentioned by designer Rumyantseva on her website. The therapeutic scents can replicate the smells of the outdoors and gives a soothing feel that will enhance everyone's best sleeping experience. Unfortunately, as it is still in its prototype stage at the time of writing, it does not have a price.
In Conclusion
All in all, all these beds will definitely give you the best sleeping experience you will ever have. I will be waiting for the Balluga to start production as it is the most affordable though.
It is only a matter of time when all these fantastic features in all the beds featured above will come available in every bed in the not so distant future.